Painting Strong Female Characters
Creating stories is a passion of mine, although I am not much of a writer. Instead I use compelling imagery and visuals to tell my story. Each painting in the series explores a single idea through symbolism with the running theme of strong female characters.
Simply put, this series is a celebration of women in all variations. It is a combination of my love for nature and astronomy with mythology, folklore and history.
It all started when I set aside some time to work on my portfolio. I was painting characters, and noticed I got most enjoyment out of painting female characters. I continued with that idea and started bringing in different themes and symbolism.
I believe it is important for women to have a voice and to be an individual.. My daughter is an inspiration to me and my art in this series.
By next year I hope to release a full art book including sketches, alternate versions of each of the characters and poetry through kickstarter. Until then prints are available in our store. You can choose from a variety of sizes and designs as well as get it shipped right to your door anywhere in the world. You have the power to bring this project to life by buying from us
Learn more about the different characters below
I will keep adding to this as more are released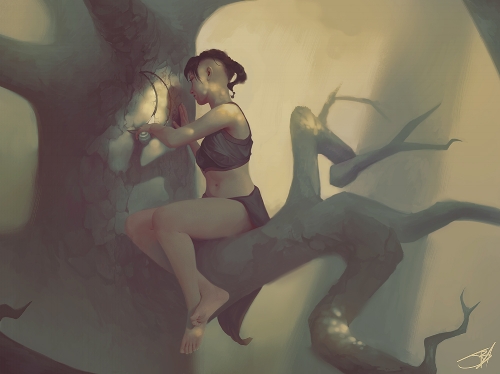 The moon's glow illuminates her every curve,
A surprising softness in the dead of night.
Her hand is steady as she traces the shape of the new moon,
The crescent, the symbol of her faith.
She bathes in it's glory, feels it's presence in her womb,
She worships the spirit of the lunar goddesses, their blissful existence.
And thus she is reminded that all women possess this same spirit.
Kennis is the embodiment of knowledge.
The owl is emblematic of a deep connection with wisdom and intuitive knowledge. Kennis, woman of the owl, has the ability to see what's usually hidden to most. The spirit of the owl guides her, she can see the true reality, beyond illusion and deceit. The owl also offers the inspiration and guidance necessary to deeply explore the unknown and the magic of life.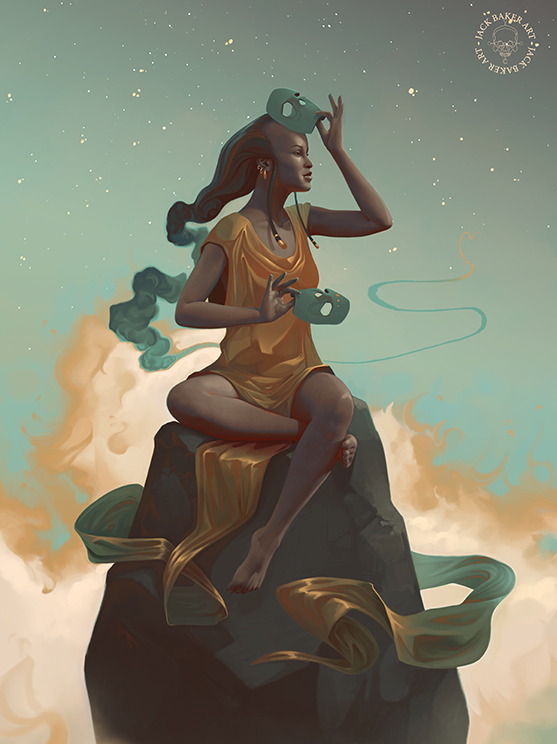 She hides in plain sight,
For she has many faces.
A treasured collection for any occasion,
Different versions she fully embraces.
Come closer, explore, her secrets you will not find,
For she is the mistress of disguise.
Her expression betrays no hint or clue,
But look deeply for the answer is in her eyes.
The death knell rings out across the silent sea,
She waits with baited breath - her lust palpable on the mourning breeze.
'Come my child' she beckons, seizing her victim's final breath,
Her strength renewed as a sickly sweet scent chokes the air.
Satiated she returns to rest, but she does not sleep,
For Death is tasked to visit us all, and all she must reap.
She is the lady of grandeur. However, it is unsure whether this women is representative of true grandeur, or delusions of grandeur. What I do know is here name comes from a Princess name Ena who later in life became the Queen of Spain.
None can see my secret will It is woven in the unseen world
In dusky hearts of grassy roots
In marshes by the foggy mire In the patterns of the stars In the flight paths of crows Across the grey unending sand
Of night, bracken paths
Like spectres in the lines of age
The words behind the madness That whispers in all things I have spun a golden ratio And wrapped it in the threads of chaos
Figures, numerals and language Kaleidoscopes and mirrored machinations Symbols in the corners of culture And landscape, and nations
A thickly patterned shroud I have walked about in dreamtime
Empty halls by velvet curtains Candle light in moonlit streets Cats in the weeds are prowling I am round the furthest corner Never to be found Ready for flight
The clouds soar from unknown places Roaming into unseen lands
The stars are ghosts from ancient times
We stand upon the precipice And whisper From the shades of slanted grey
Our eyes look out of the abyss And into the firmament, over rock And into hill, grass to dust, to bursting seed To height of life, rising cities, falling ruins, stories of the elders Through to younger minds, we walk in every text The world unending passing by And all we ever find The business of motion, a thousand swirling lights In the blinking of an eye, and then a song to rest And the quiet midnight sky We turn our forms, one comes, one goes We walk in neverending time The rhythm of our movements entwined Like the snake that coils round our shoulders Weaving through the thoughts of ages Dust sweeps on
Distant memories of her, a distilled romance drained from cold blue eyes, rolling down soft pale cheeks. Once warm and alive now dead inside. Falling like rain turned to hail, twisting and contorting, fading into pools of stars.
Shades of love trapped within a single tear, camouflaged by hate, compelled by loss.
Forever gone